You are probably familiar with the word "Simulator". A flight simulator is a virtual reality system that can simulate the airplane environment for the pilot. The pilot improves himself by practicing on the simulator. This helps the pilot to be more successful in real flights. Not limited to flights, simulation can be applied in every field. Consider the real PMP exam as a real flight, and consider the PMP candidate as a pilot. A PMP candidate can increase his chances of passing the exam by practicing with a PMP Exam simulator. In this article, we will examine the popular PMP Exam Simulator: The Prepcast PMP Exam Simulator also known as Prepcast simulator review, which is one of the best PMP exam simulators. (See the complete list and comparison of the best PMP exam simulators)
In this article, you are going to read my Prepcast simulator review.
Prepcast PMP Exam Simulator Review
A PMP exam simulator is a very useful product to increase the chances of success in the exam. Prepcast PMP exam simulator claims that it will prepare you for the exam in a short time like 3 months. It's pretty impressive. In this article, I will share my opinions about this product, the features, benefits, price, and if does it worth the price. Before you make a purchase, I strongly recommend you read this till the end.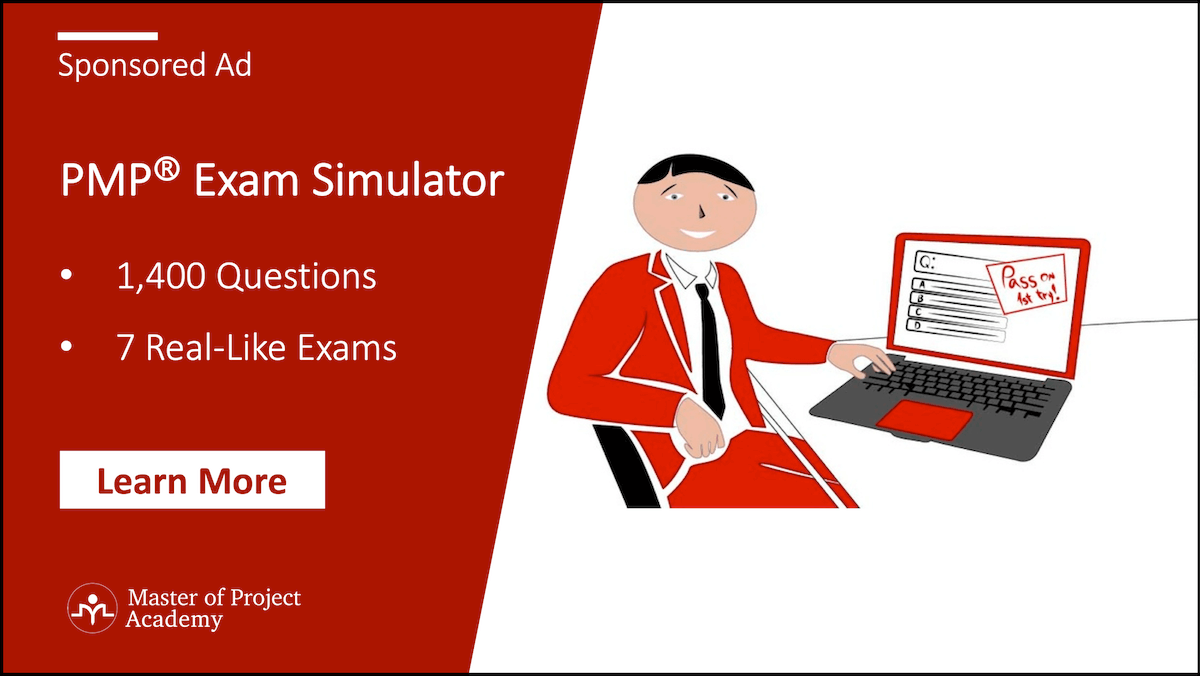 The number of users
Before I make a decision, I first look at the number of users who have chosen that service or product, and the ratings and comments that they have given. These ratings and comments are critical factors that influence my decision. The PM Prepcast Training has 711 reviews and a 4.9 point average. Nearly a perfect score. Additionally, I review the negative comments for every online shopping. When I did this, I saw a few negative comments, some of them stated that the content of the education was not worth the money. Some stated that they did not pass the exam even though they received the education and the exam simulator.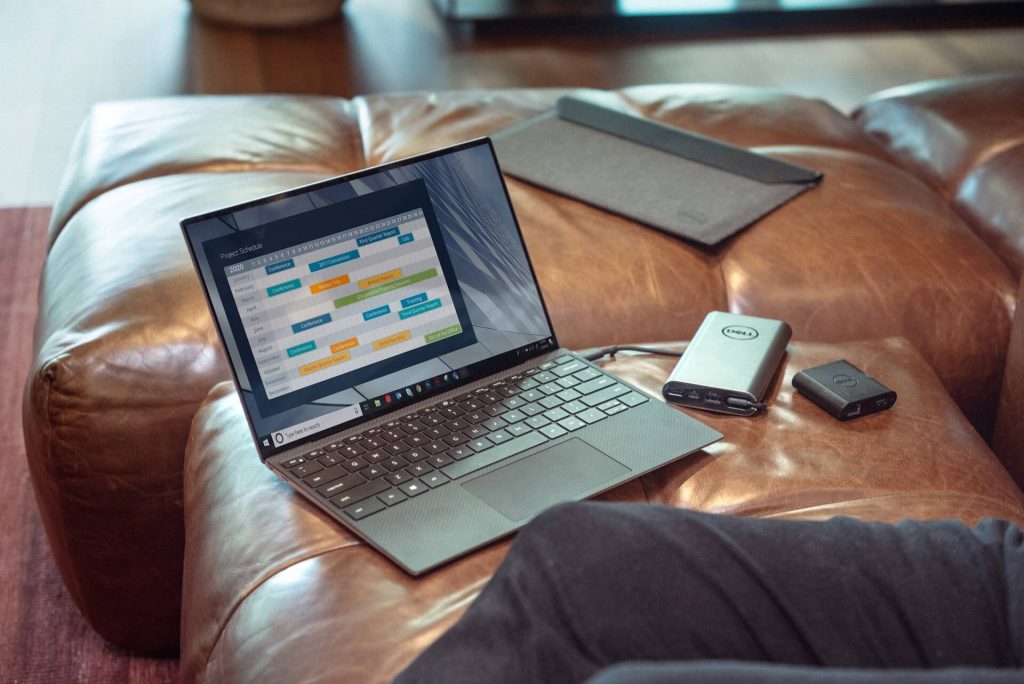 The feedback
Successful products/services inevitably reach many people. Therefore, the number of users is also an important criterion for me. Let me explain why I think it is an important criterion. Educators are generally people who are open to student feedback. They see constructive criticism as an opportunity to improve themselves and their education. If you evaluate it this way, there is a significant difference between the feedback given by 10 people and the feedback given by 10,000 people in terms of diversity. So, over 50,000 participants from different countries have purchased this training. Hence there should be a remarkable number of feedbacks given for this training.
This feedbacks make the training evolve to a certain level of maturity. 50,000 enrollments is an adequate number for me. So many people can't be wrong, right? By the way, is 50,000 a super figure? To be honest I saw another PMP training company with x10 times larger enrollments than this, which is super good.
Pricing
When the pricing is global, the same price can be evaluated as cheap according to the people of developed countries, but also can be evaluated as expensive according to the people of emerging or under-developed countries. And for sure some students will fail the exam. Some training companies also share their students' first-time pass rate information in the PMP exam. Maybe it would be nice if they shared this information. As there can always be better ones, the ratings and comments shared for PM Prepcast are satisfying for me.
The Trainer
If we examine a training service, we shall examine one other critical thing: The Trainer. In short, I would like to share with you who this instructor is: Cornelius Fichtner. Starting his career as a software developer, Cornelius says he realized that his communication skills were superior and started project management with the help of a little coincidence. When he started to lead more and more complex and important projects, he decided to stop developing software and do project management completely.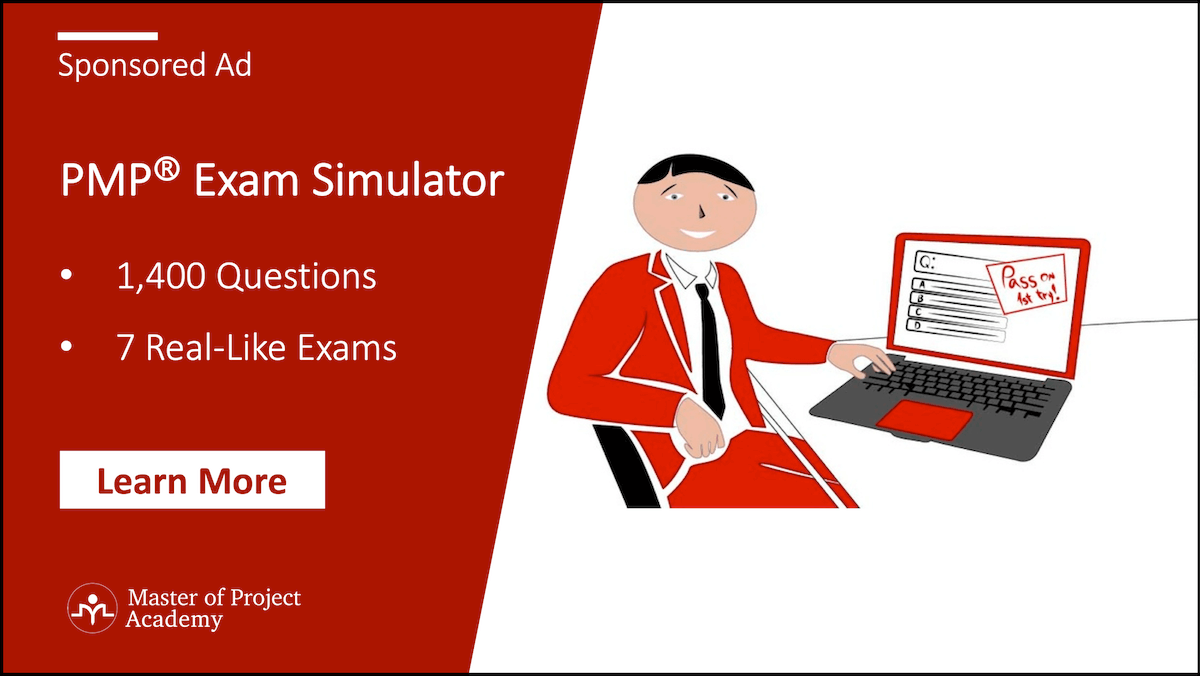 Born in Switzerland, Cornelius has been working as a Project Manager in Switzerland, Germany, and the USA since 1990. He also received the Project Management Professional (PMP) ® certificate in 2004. So he has plenty of experience in project management. Cornelius is the founder and the president of PM Prepcast company, and also works with the company's other trainers to develop new education products. By the way, he is popular with his podcasts. If you ever listened to podcasts in the field of Project Management, you probably came across a few of his podcasts.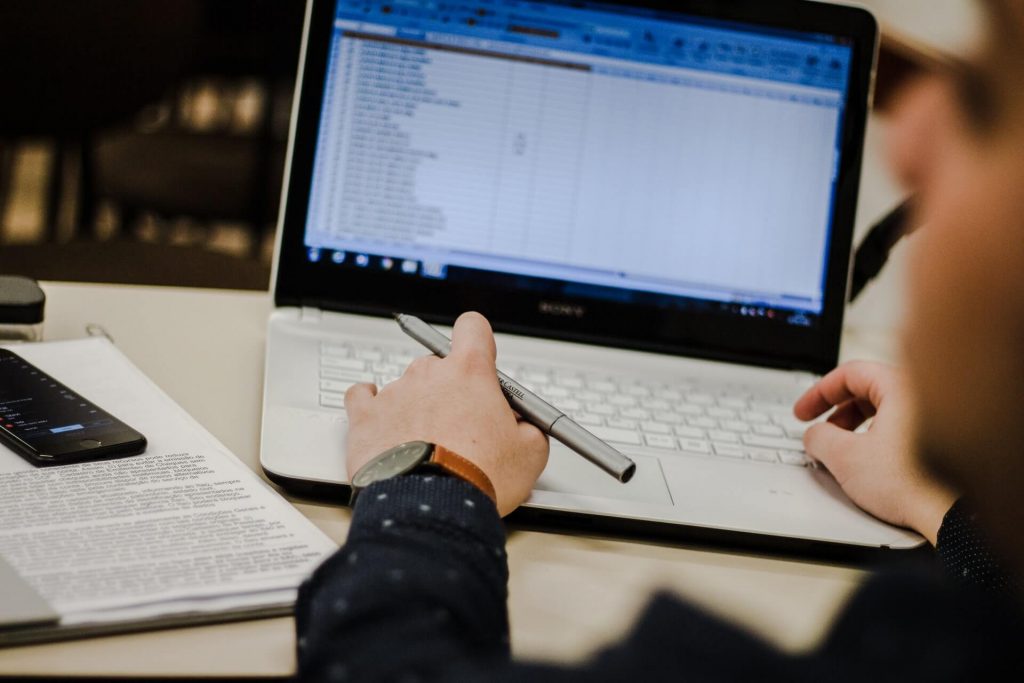 Prepcast training and Prepcast exam simulator
PM Prepcast training company sells both PMP exam Prepcast simulator and online PMP training. These are sold together as a pack or separately. The first thing that many people wonder and want to learn is: Will this online training and Prepcast simulator be valid as a 35 contact hours training that PMI wants for the PMP exam? My answer to the PMP Exam simulator is "NO".
The PMP exam simulator is not a substitute for training. It is a tool to develop your exam experience by making practices. For online training videos, my answer is "YES". PMI accepts online training and also this one is approved by PMI. Actually, I just emphasized the importance of the number of participants enrolled in the training. 50,000 people have received training and a significant portion of this has already taken the exam. If there had been a situation about the invalidity of this training, it would definitely have been reflected in the Google ratings. You can be comfortable with this.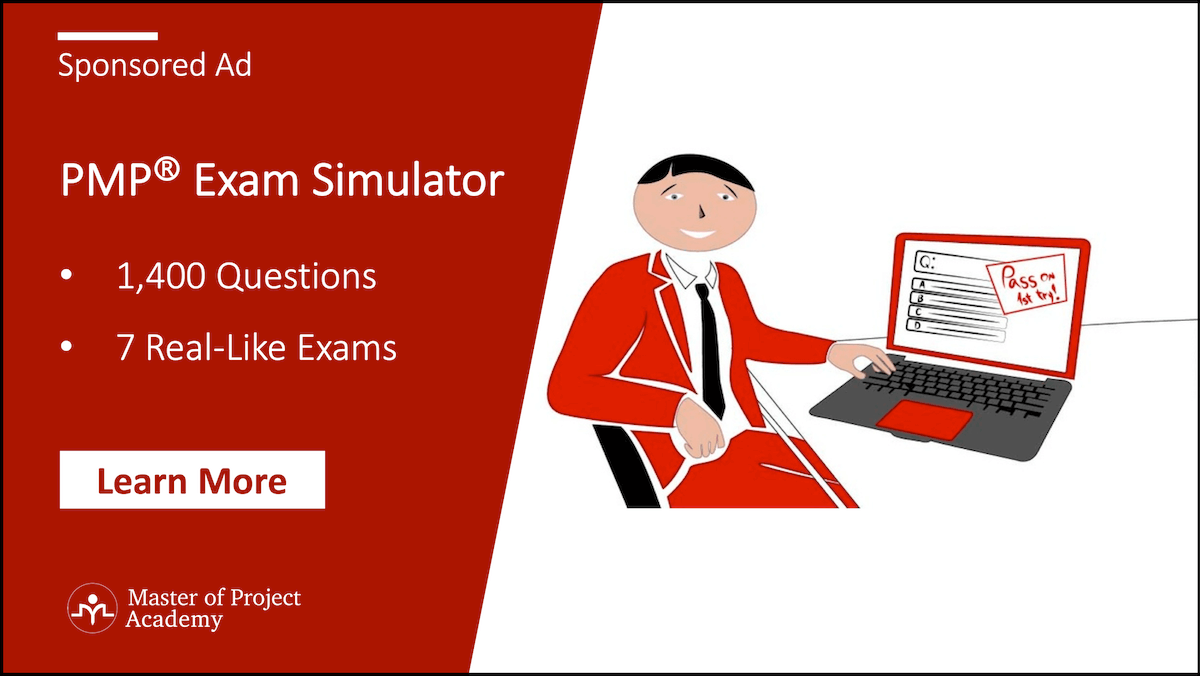 Another question that I face: Is the training content PMBOK compatible? Yes, it has a close relationship with the validity questions. PMI does not approve training if the content is not PMBOK Guide compliant. So this training is a PMBOK complaint, and you can be comfortable in this regard.
PM Prepcast Simulator Benefits and Features
You have or will receive 35 hours of training. You have read or will read many books on PMBOK Guide, Rita, Head First, and project management. Despite all this preparation, as the exam date approaches, you will start to wonder about whether you are ready for the exam. This will put a significant amount of stress on you. I have good news for you. Regardless of where you get your PMP training, you will be able to prepare and practice with PM Exam Simulator and increase your exam experience with its realistic simulator.
We all aim to pass the PMP exam in the first attempt, and the PM exam simulator will be one of the most important tools to support you. By using PM Prepcast Exam Simulator, you will significantly reduce exam stress because you will be able to predict approximately what will happen in the exam. We know the importance of preparation and this simulator provides you this. This simulator will also help you create practices on how to manage time and develop your own exam strategy. It is a very useful assistant that will try to reduce the stress on you for the day you will take the PMP exam. Now let's talk about the features of this simulator in our Prepcast Simulator Review.
You can access the PM Prepcast exam simulator via the following link: https://www.pm-exam-simulator.com/
Mark for review button:
In this simulator, there is a "mark for review" button that you will see in the original PMP exam. There is a good and simple logic behind this button. For example, on Question #10, you chose "option C", but you are not sure about it. Time is ticking on the exam. Do not spend excessive time on a single question. If you have extra time towards the end of the exam, you can easily read the marked question once more and think about it. This feature is cool and it is also the same that we see in the real PMP Exam.

Use on any device:
It will annoy anyone if a purchased product is not compatible with the device that is owned. PM Prepcast Simulator supports the most common internet browsers (PMP Exam Simulator does not support Internet Explorer, but supports Edge, Safari, Firefox, and Chrome), tablets, and mobile phones. An active internet connection is required since the exams are executed online only. It will require an internet speed of 256 kbit which may not be a problem in this world of high-speed internet. The simulator can be used on phones and tablets but works best with a screen resolution of at least 1024 x 768. But if you want to be sure about the device support, it provides a free simulator for you to try. I will include the details in the later sections of the article.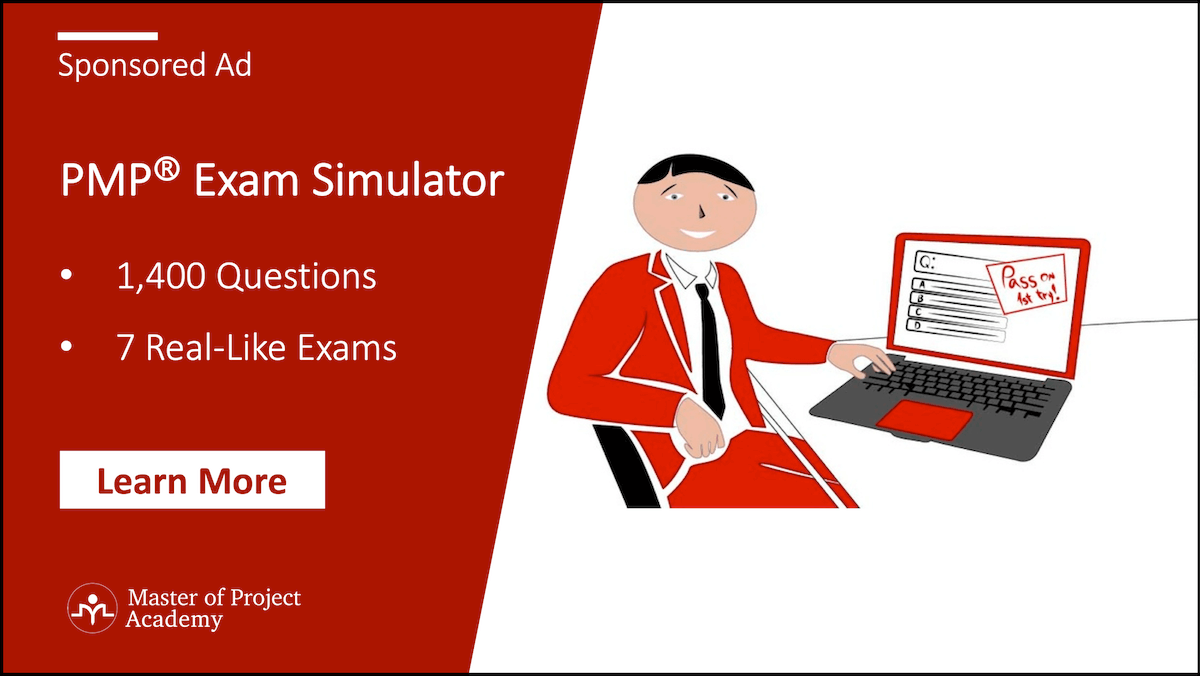 Realistic questions:
The feedback of many students stated that 1600+ questions in the PMP Prepcast exam simulator were prepared very close to real questions. I also agree with this. The company indicates that the questions and their explanations are frequently updated based on the feedback from students. The questions in the Prepcast PMP simulator were referring to the Project Management Body of Knowledge (PMBOK® Guide) for the majority of the questions, as it is done in the real exam.
Live feedback:
While checking the answers of the exam, sometimes we do not agree with the correct answer, or the given explanation is insufficient for us. With the Live feedback feature, it is possible to forward your note, your escalation to the team who prepares the questions. The subject matter experts will review your record and reply to you in writing. I did really like this feature.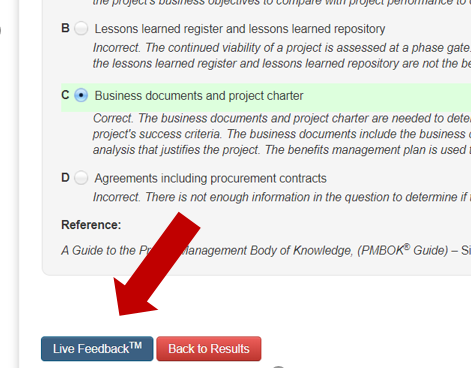 Unlimited repeats:
Well, I can hear the question of what will this feature do for me? Maybe you started the exam at a time when your mind is too busy with something else and that's why you got a really low score on your test exam. Unlimited repetition means you can try the same exam again. Think that your PC restarted itself, or you run out of battery, or there is a problem with your internet connection. If you can quickly reactivate your computer, the PM Prepcast exam simulator allows you to continue the exam where you left off.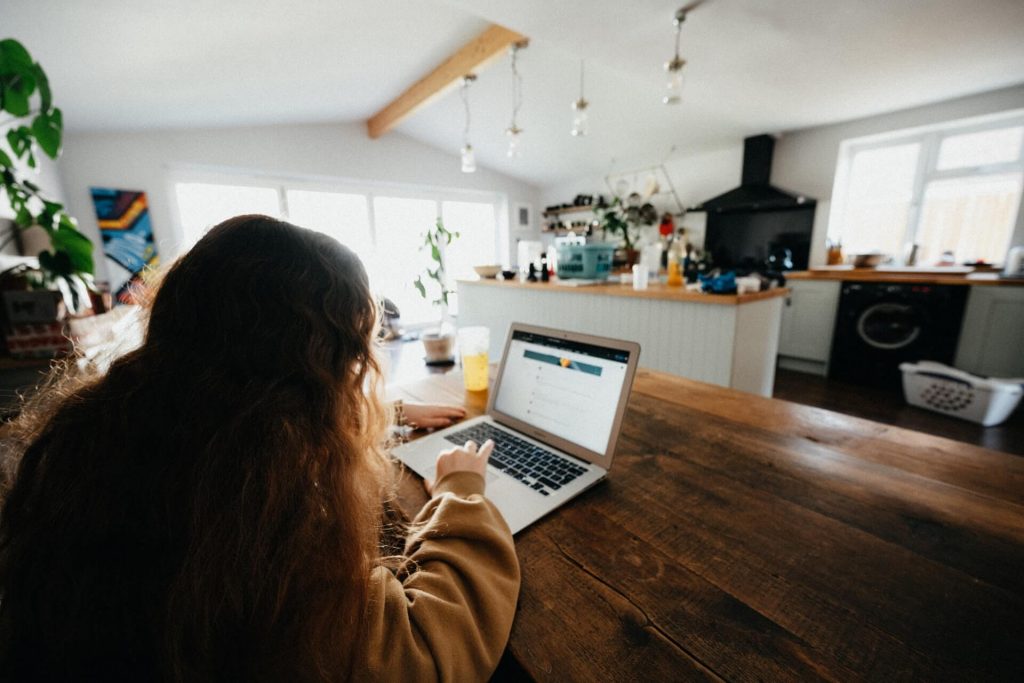 However, if your computer crashes or you do not have the opportunity to recharge your battery, it will still be possible to take the same test again, but this time from the beginning. In another case, you plan that a 3-hour period will only belong to you while solving the questions in the simulator, you may still have to leave the exam in an emergency. In this case, the simulator at least allows you to end the current exam and start again later. Time runs continuously in simulator exams and there is no pause option. This is deliberately done to make you feel like the real exam. In short, the PMP Prepcast exam simulator allows you to use 8 exams and 1600+ questions as often and as often as you want, during your active subscription period.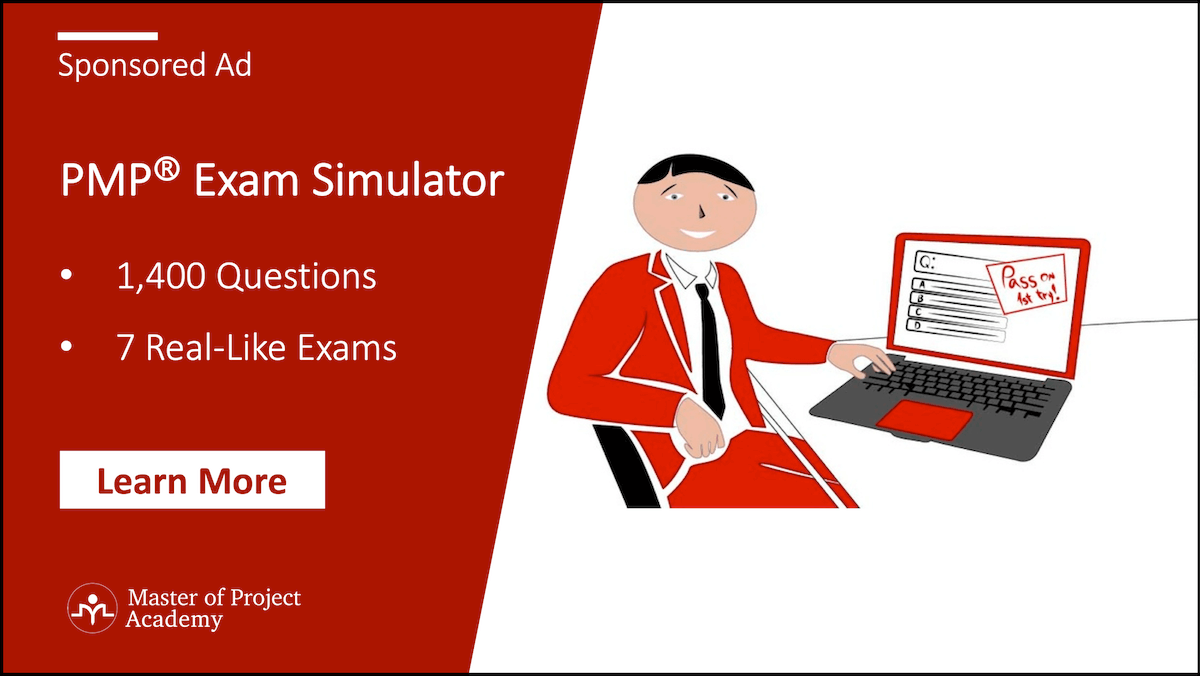 Detailed exam report:
The benefit of PMP prep exams is not only to get exam practice but also to see the mistakes you made, learn your shortcomings, and improve yourself. Prepcast Exam simulator provides detailed explanations of the answers after each exam. In this way, you get more detailed information about where you made the mistake, especially in the questions you made wrong. You will learn where the simple mistakes you did and so you don't do it again in the future. A mistake you made because of a lack of information, also gives you detailed information about the correct answer and related references on the PMBOK.
Thus, you also get the opportunity to re-study the issues that you are not perfect yet. You can see this report on the screen after the exam. Together with it, the report is sent to your e-mail address. Thanks to this report, we have the opportunity to review all incorrectly answered questions and learn from our mistakes.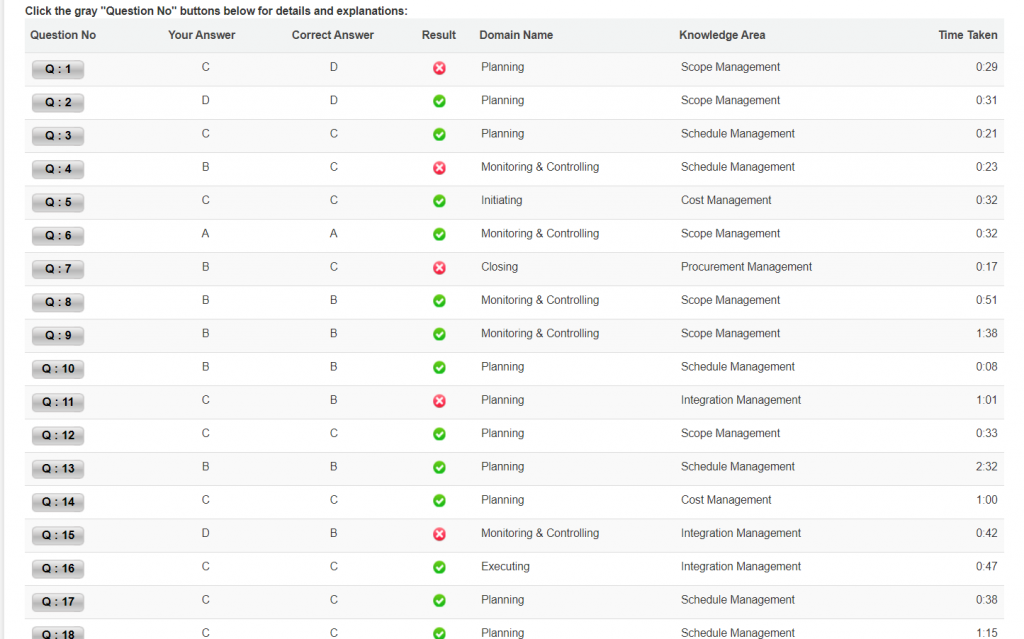 Statistics:
Using the information in the exam report, a statistics feature was presented to PMP candidates. By analyzing your Prepcast PMP simulator exam results according to the information area or process groups, you will easily see your progress in general, in which areas you perform well, in which you need to do a little more practice and repeat the subject.

Prepcast PMP Simulator Review: Questions
Prepcast simulator has one of the largest question pools in the market with more than 1600 questions. The questions are prepared to cover all knowledge areas, process groups, and formula. Not only PMBOK but also other sources recommended by PMI for the PMP exam were used as resources. The questions you will see in the Prepcast simulator has been developed with the same principle used by PMI while preparing the real exam questions. The principle is, one person prepares a question, and other people diversify and modifying these questions. So the question is revised many times. Hence it achieves the level of difficulty and unpredictability of the real PMP exam. Prepcast stated that 7 PMP certified people were working during the preparation of the PMP Prepcast exam simulator questions.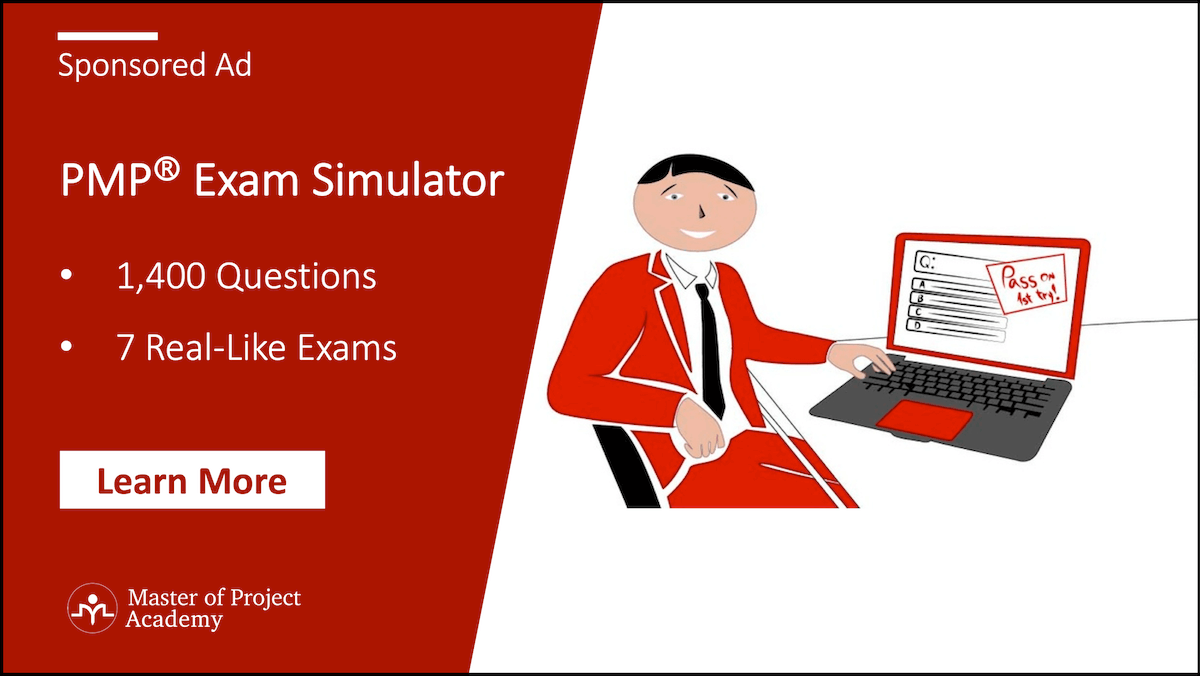 In the real PMP exam, you will be given 200 questions and you will be asked to answer them within 4 hours. The Prepcast PMP simulator offers 8 exams in alignment with this rule. It was also conveyed that all of the questions are aligned with the PMP Examination Content Outline. If outline updates, the unsuitable questions are deleted and new ones are added.
In addition, as I have mentioned in the previous sections of my Prepcast Simulator review, updates are frequently made according to participant/student feedback.
PM Prepcast Exam Simulator Review: Pricing
When you open the pricing screen on the PM Prepcast Exam Simulator's website, 4 different options welcome you. Since we are dealing with the PMP Exam, we will not examine the PMI-ACP and CAPM options.


The first option is the PMP Exam 2020. If your exam is scheduled in 2020, this option will be the right choice for you. You will have 8 exams consisting of 1600 questions on the PMP exam simulator prepared according to the current PMP Exam Content Outline. There is a 90-day access limit. This period starts from the date you start taking the first exam, not the day you buy it. If you want to extend this 90-day period, you can choose the appropriate 30-day and 60-day paid extension options. The price of this package is 139 USD. After purchasing this package, an additional 30-day extension is available for 25 USD and a 60-days extension is available for 39 USD.
The second option is the PMP Exam 2022. If your exam is scheduled in 2022, this will be the right choice for you. The simulator provides access to over 2,100 realistic PMP exam questions. Unlike the option in the PMP Exam 2020, the Quiz Pool option has been added here. Quiz Pool allows you to focus on testing yourself on specific topics. Again, this package has an access limit of 90 days. This period starts from the date you start taking the first exam, not the day you buy it. If you want to extend this period, there are also a 30-days and a 60-days paid extension options. The price of this package is 149 USD. After purchasing this package, an additional 30-day extension is available for 25 USD and a 60-days extension is available for 39 USD.
I want to make a warning about a refund in this Prepcast Simulator review. You must not start more than 2 exams and 3 tests before requesting a refund. In these conditions, you can ask for a refund within 15 days from the date of purchase.
Prepcast PMP Simulator Review: Free Demo
I have good news for you… Before you make a buy decision, you can try out the simulator with all of the features for a week-long.
If you want to test the device compatibility of the simulator or see the question quality, a free demo version is available for you to try. If you register for the demo, you will receive an e-mail course in your inbox. Prepcast simulator shares strategies on multiple-choice test-taking and other PMP exam study materials recommendations. You can also subscribe to the weekly PMP Exam Tips Newsletter. This newsletter presents working approaches, best practices, articles, and recommended study materials.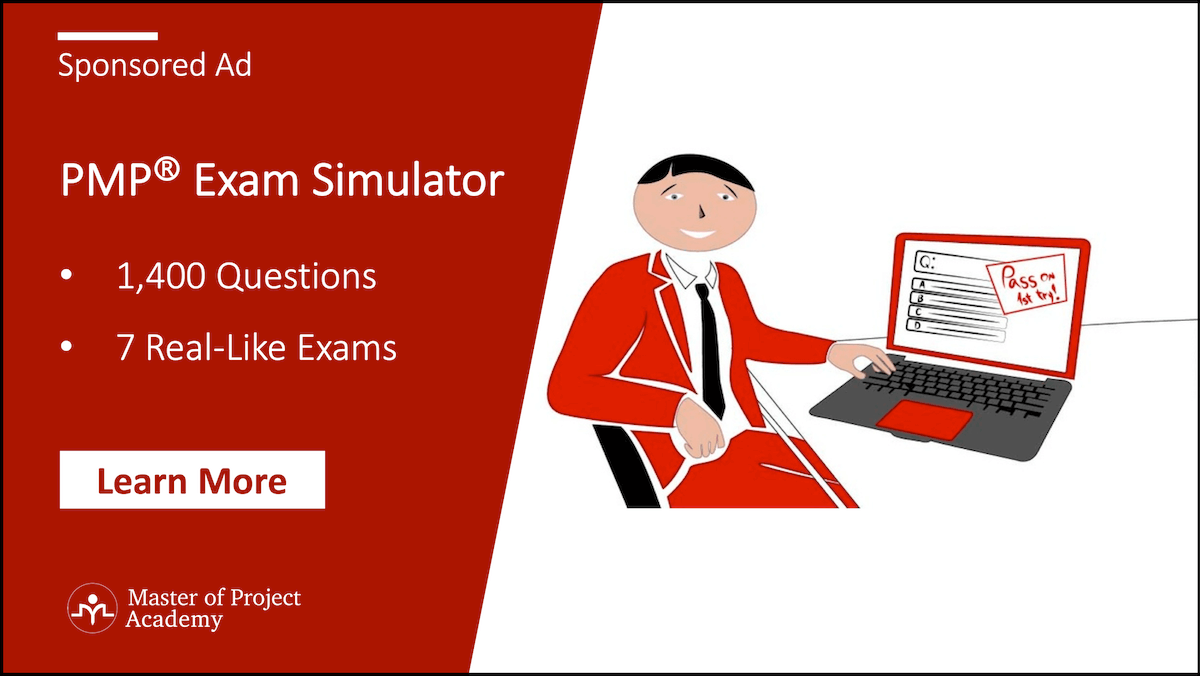 To access the demo version, you need to apply: https://www.pm-exam-simulator.com/pmp-exam-simulator/free-pmp-exam-simulator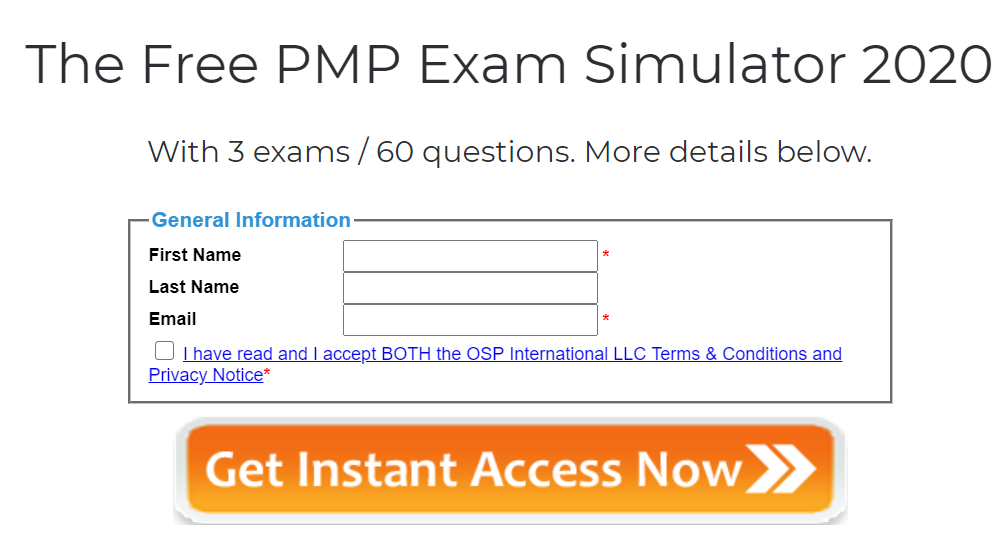 After you fill this form and send it, you will receive an e-mail. In this e-mail, there is the link for the online simulator, your username, and password information of your account. When you log in, you can access the demo version via the link in the image I shared below.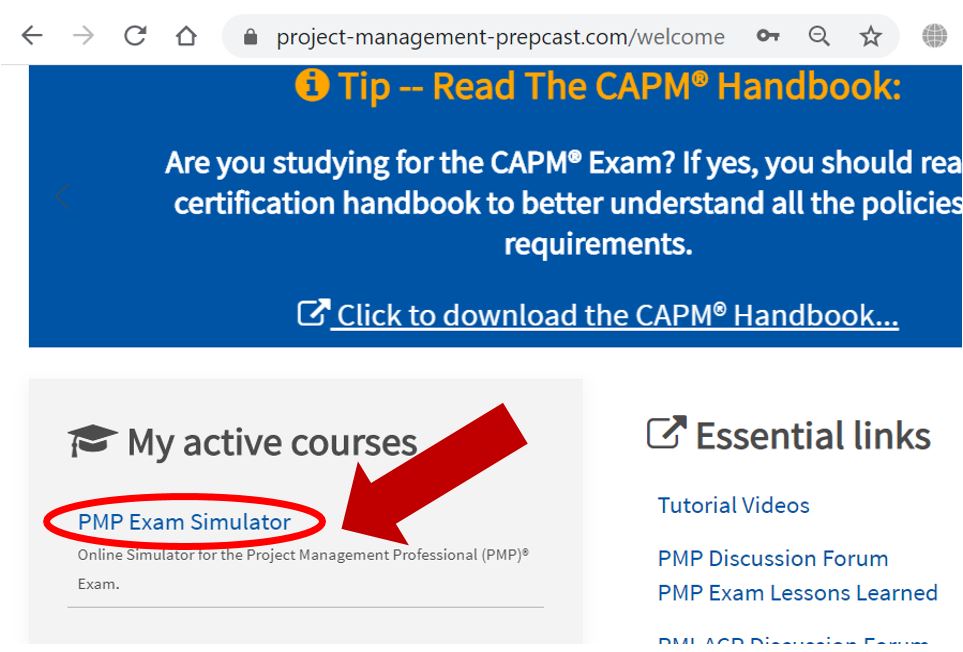 This free Prepcast simulator is limited to 3 exams and 60 questions. It will only be available for 7 days after you register, you will not have much time left. On the free demo version, you can use the extended features of the Prepcast simulator. There is a button named Show Grid. Pressing this allows you to see which questions you answered, which were left blank and which questions were marked, just like in the real exam. It creates a report for you after you have finished the exam. You can see your exam results and your domain-based status in this report. Moreover, this report shows you the correct answers for each question one by one. You can review the answer and detailed explanations easily. I strongly recommend you to use this feature to learn more.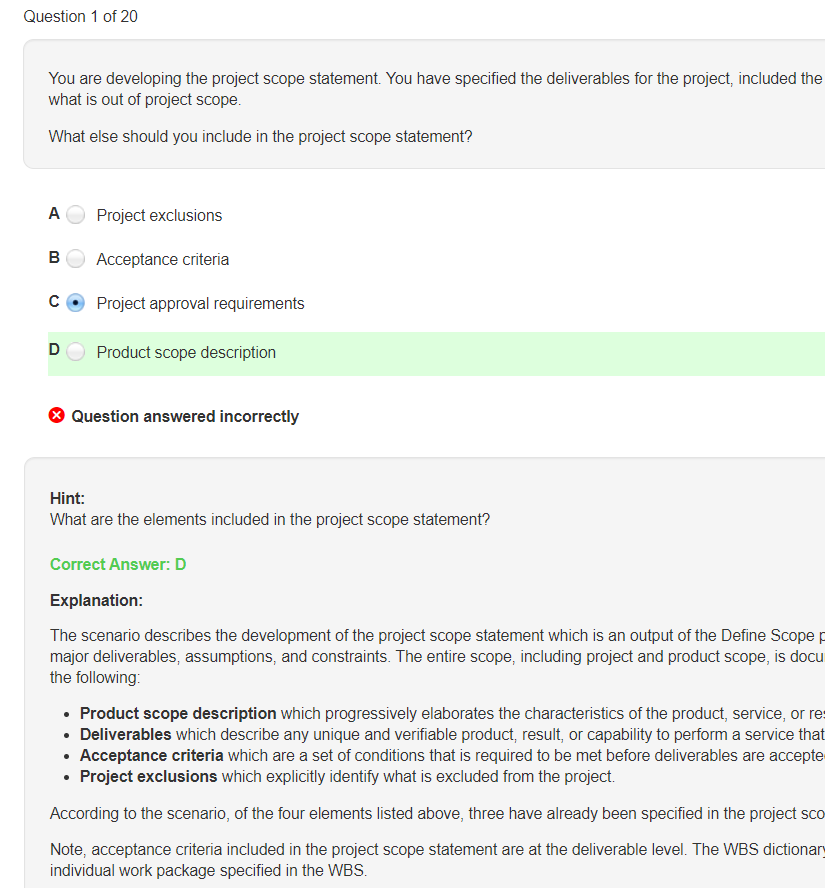 Prepcast Simulator Review: Summary
The PMP Exam simulator is definitely a useful tool for practice and it is very close to the system you will use in the real exam, in terms of features and visuals. The Prepcast simulator exam gives the user the real exam experience. Additionally, the questions are truly similar to the real PMP exam. I really liked the application. However, there are even better options if you check our best PMP exam simulator post.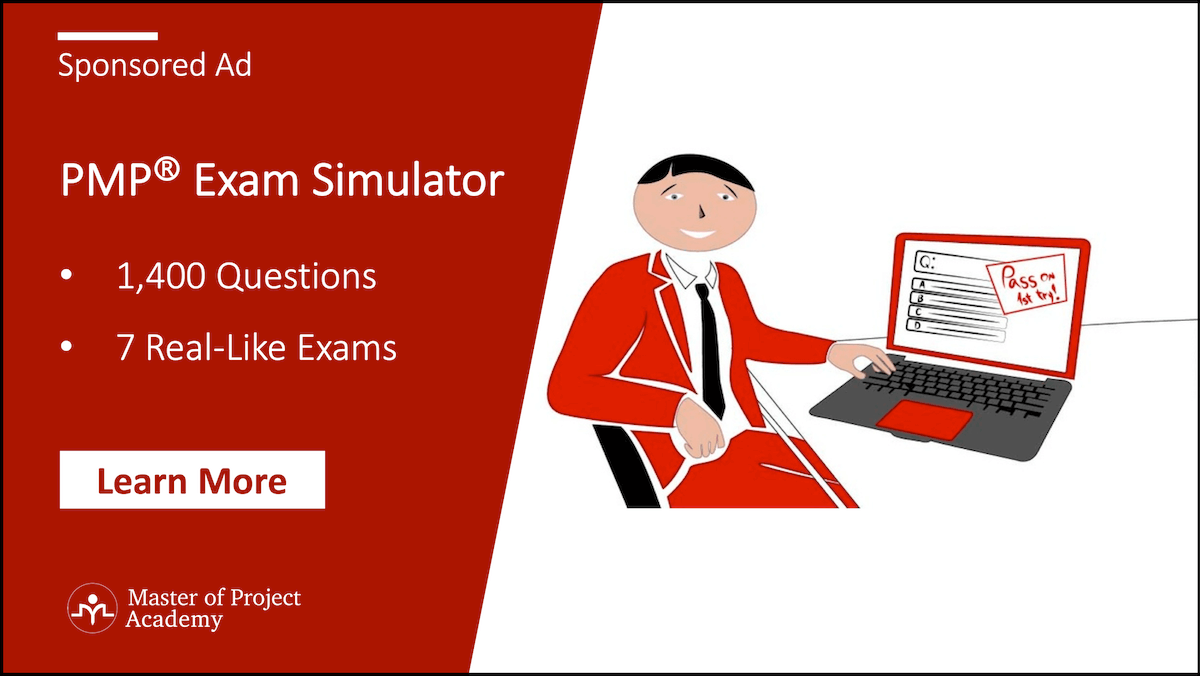 Overall, I think it is successful and its price is reasonable for its benefits. I do recommend the Prepcast Exam Simulator but for online training, you can find more affordable and appreciated online training on different websites.