Considering the importance of Project Management Professional (PMP) Certification across the globe, the project management aspirants are always keen to know the availability of the PMP certification options available in the market. Not only knowing the options is enough. One must be able to seek further guidance to assess the feasibility of these options. If you are looking for such information then you are reading the right article. As in this article, I will provide you with the Project Management Academy PMP programs' review which is one of the leading PMP Certification training providers.
As clear from as its name, Project Management is the main focus area of Project Management Academy. They have training experience of more than a decade. During this tenure, they have provided Project Management and Business trainings. Many of these trainings are provided to the Fortune 1000 companies. Project Management Academy PMP programs trained more than thousands of organizations with trainings tailored to fit the organization's need. They have national in-person training with more than 55 locations. Project Management Academy PMP faculty has a pool of more than 50 expert instructors, all PMP qualified and with real-world experience.
Project Management Academy PMP Training Programs
They offer a wide range of trainings. These trainings cover a huge portfolio. Their main training offerings encompass the following areas:
Project Management
Agile Management
Business Analysis
Quality Management
IT Management.
PMP Certification Program
Project Management Academy PMP Program is one of their mainstream offerings. The reason behind this is the fact that the value of PMP Certified Project managers being well accepted across the globe. Furthermore, properly trained project managers are recognized as fundamental to business success.
Project Management Academy PMP program makes sure that the aspirants are prepared to pass the project management certification exam on their first attempt. Their PMP training program is a 4-day PMP boot camp. The timings of the classes are from 8:30 AM to 6:00 PM. This boot camp is an instructor-led course. This course satisfies 35 PDUs which is the requirement of PMI to apply for the PMP examination. The courses scheduled by Project Management Academy are guaranteed to run on listed dates. You can find the training course at your convenient location or online.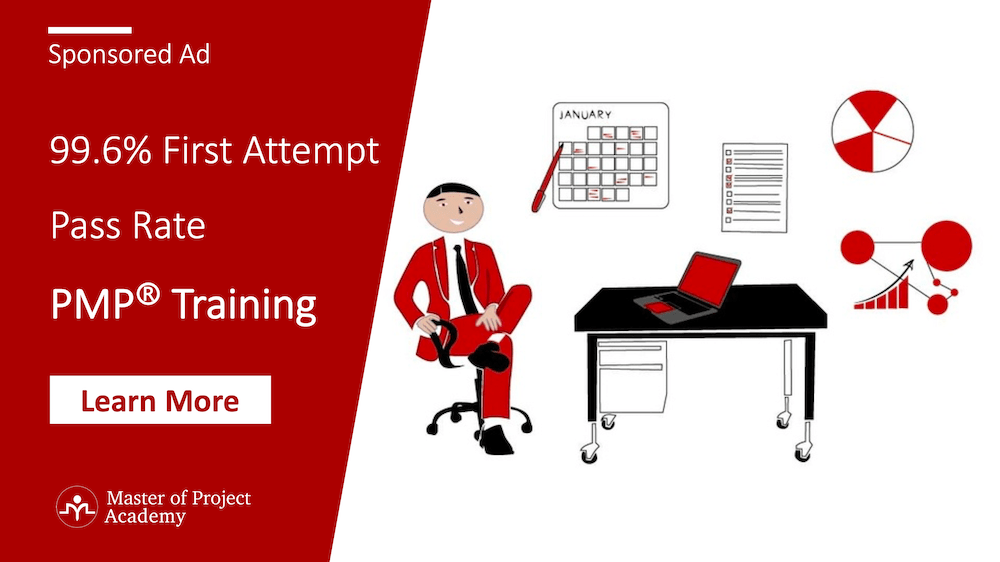 This course is mostly intended for individuals who wish to obtain their PMP or CAPM credential. Prior to taking the PMP exam, PMI® requires you to prove you have 3+ years working as a project manager. Project Management Academy PMP course earns you 35 contact hours of project management education. Project Management Academy PMP program is designed to help you earn your PMP certificate the easy way. However, this course can be taken by everyone who wants to know more about the fundamentals of project management.
Project Management Academy PMP Course Material
PMP Main Presentation Coursebook – The coursebook covers the most important aspects by giving you the big picture. They are followed by the necessary details to focus through a logical and understandable sequence.
A PMP Strategy Guide– It outlines several critical areas: formulating a good study plan, what to expect on exam day, understanding the 25 most common confusions students encounter and defining the 10 most common types of testing tricks on the exam.
PMBOK Guide – A Guide to the Project Management Body of Knowledge, Sixth Edition (PMBOK® Guide) is the leading reference tool for sound project management practices.
PMP Quick Study Guide – The Quick Study Guide makes a handy accessory that you can easily study anywhere. It covers terminology and charts. And also helps you categorize various concepts and their relationships.
PMP Process Group, ITTOs, and  Key Formulas – It covers processes and formulas, it also highlights key calculations and description of their components. They also present all inputs, tools, and techniques, and outputs for each process.
Practice Questions and Mock Exam – Provides a more interactive experience and enhances class engagement. A mock exam is a diagnostic tool that identifies the student baseline position. And also helps identify the areas of improvement.
PMP Sample Forms – Project Management Academy provides template forms for the most important project management plans and documents
Online Course Lectures – With the PMP course you get detailed audio-visual lectures, broken down individually for each discrete topic/process outlined in the PMBOK® Guide.
PMP Tutoring Webinar and Tutoring Email –Project Management Academy provides free tutoring webinars every Friday at 3 pm ET. You can register for these webinars from the web portal and attend via GoToWebinar. In addition to this, there are informal Q&A sessions that provide ongoing individual support via email.
Project Management Academy PMP Course outline
The outline of Project Management Academy PMP Programs is in-line with the PMBok knowledge Areas.
Project Management Framework
Integration Management
Scope Management
Schedule Management
Cost Management
Quality Management
Resource Management
Communication Management
Risk Management
Procurement Management
Stakeholder Management
Mock Exam
What Are The Available Project Management Academy PMP Training Formats?
Project Management Academy PMP Program is available in various formats for individuals and groups. These formats are: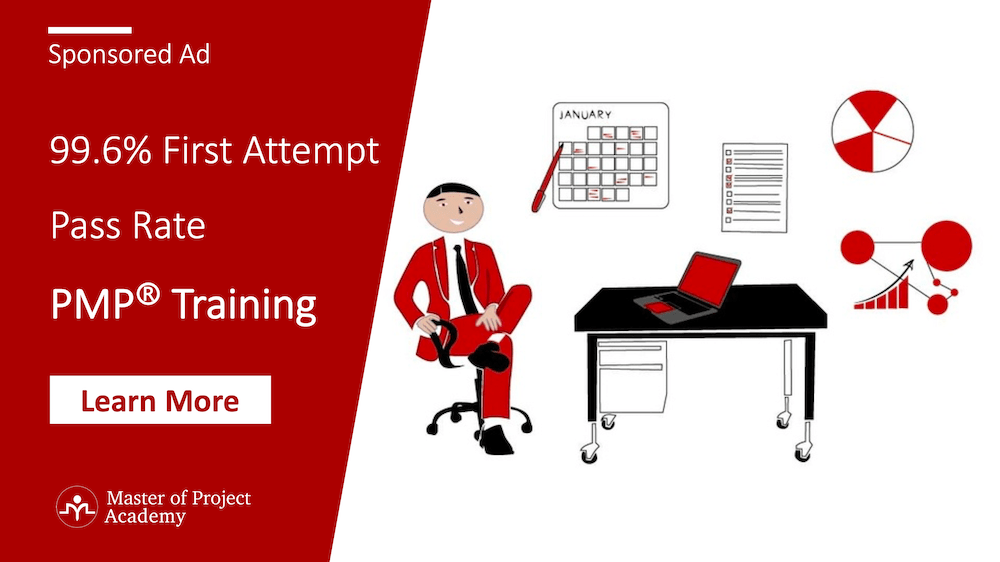 1- Live, instructor-led
Participants are required to attend the instructor-led live program at the training facilities of Project Management Academy. On registration of this course, you receive a print version of the PMP training materials (course binder) and 6-months access to the online training portal.
However, you register for your course considering the fact that you will visit the specified premises to complete the course. The training programs are available for working days as well as weekends.
The original cost of instructor-led training is $2,895 USD. However, these rates are subject to discounts and the discounted rates are also displayed where applicable.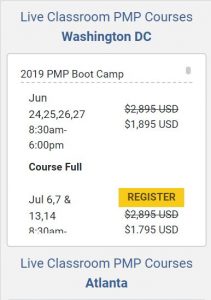 2- Virtual Classroom
Virtual classroom format is 4 days of web-based e-learning with a live instructor. On registration of this course format, you also receive a print version of the PMP training materials and 6-months access to the online training portal.
The virtual classroom course offers you flexibility in terms of locations. However, the timings are to be properly observed to ensure attendance. The virtual training programs are also available for working days as well as weekends.
The original cost of virtual classroom training is also $2,895 USD. Again, these rates are subject to discounts and the discounted rates are also displayed on the website.
3- In-House 
Project Management Academy also delivers the PMP training course on client facility or any location of client preference. In order to avail this course format offering, the organizations must have a minimum of 15 candidates. For such offerings, the schedule and premises are subject to the preference of the client. The training can be scheduled during any four consecutive days that you choose.
Unlike other PMP training providers, Project Management Academy PMP program does not have a self-paced PMP training option. This is a big disadvantage and we will elaborate this more on the pros and cons section.
What Is The Eligibility Criteria of PMP Certification?
The eligibility requirements for the PMP certificate are as follows:
| | | |
| --- | --- | --- |
| Education | Project Management Experience | Project Management Education |
| Non Graduates | 5 years/7500 hours | 35 hours |
| Graduates | 3 years/4500 hours | 35 hours |
PMP Boot Camp Certificate of Completion – When you complete Project Management Academy PMP Program, you will receive a Certificate of Completion. This Certificate of Completion acknowledges that you have acquired 35 hours of professional development training. When applying for the PMP exam, you will need to provide PMI a copy of this certificate in case your application is selected for the Audit.
Remember this Project Management Academy PMP course completion certificate is just a step towards the PMP Exam. It is important to note that the PMP Certificate will be delivered only if you pass the PMP Exam. The average success rate for the PMP exam is just over 60%. In the past, PMI declared the passing grade as 61%. However, the PMI does not disclose the exact score or success percentage anymore. After updating the PMP certification exam, the grade is different for each candidate and depends on the difficulty level of the questions.
What is the Pass Rate of Project Management Academy PMP Students?
Project Management Academy calculates success rate statistics by tracking the number of their students who were unable to pass the exam and comparing that number to their total enrollment figures. According to the statistics they claim to have more than 99% success rate. They have also specified their success rate statistics for the last 9 years on their website. Note that, this is the total pass attempt including second and third attempts of students if they failed in their first attempt.
Does Project Management Academy Offer Any Continuing Education Programs?
Project Management Academy also offers training for the project managers that helps them to improve their skill set and project management knowledge. Club PDU provides an easy way to earn the 60 PDUs. These PDUs are a requirement of the renewing cycle of 3 years. These 60 hours are mandatory for the PMP accreditation holders to renew their PMP accreditation after every 3 years.
The PDU courses catalog consists of various interesting offerings. By opting for these courses the project managers not only cover the renewal PDU requirements, but it also helps them to enhance their skills. The duration of these courses vary.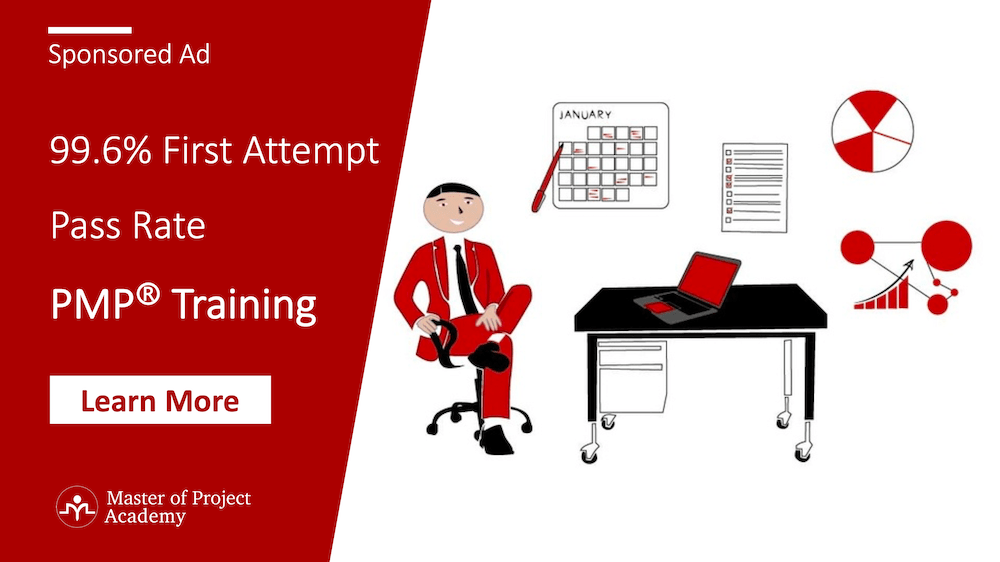 List of PDU (Professional Development Unit) courses
There are several courses which help earn 1 PDU as well as there are courses which help earn up to 16 PDUs. Some of their PDU courses are:
Building Your Professional Brand
Business Analysis Fundamentals
Conflict Management
Contract Law for Project Managers
Emotional Intelligence
Introduction to Agile
IT Security for Project Managers
Jira Software Basics
 Leading Dispersed Teams
Lean Six Sigma Yellow Belt
Managing Client and Stakeholder Expectations
MS Project 2016
Organizational Readiness
Program Management Fundamentals
You can view the details of each of the courses on their website.
Club PDU Program
Club PDU program offers various packages. These packages provide video on demand.
1- Annual Package – This is one year package that gives access to the entire library. This package costs $1,497 USD.
2- Gold Package – This is a 60 PDUs package. This package costs $1,197 USD.
3- Silver Package – This is a 20 PDUs package. And costs $599 USD
4- Bronze Package – The Bronze package is a5 PDUS package. Which costs $249 USD
You can register to the package of your choice and earn the respective PDUs once you watch these on-demand videos. However, considering that there are more five to six times affordable 60 PMP PDU course bundle options in the market, these offerings are very excessive. 
Once you avail the package, you are eligible for the discounts on additional PDU training courses. For instance, The Silver level includes offers a 40% discount on additional PDU training courses. The Gold level package offers a 60% discount on additional PDU training courses. All the courses that Project Management Academy provides in these packages are approved under PMI category A. This ensures all PDUs count towards PMP renewal. Hence the reporting and application of the earned PDUS is a hassle-free process. This gives PMP accreditation holders the peace of mind and assurance that will meet the PDU requirement.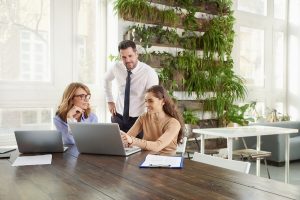 Free PDU Material
Project Management Academy also provides different resources. The material is relevant to the following
Free PMP questions
Charitable Contributions
Prize Giveaways
Project Management Jobs
Press and Media
Project Management Articles
Blogs
Project Management Academy's Other Significant Contributions
Though this section is not fully connected with Project Management Professional Certification, however, I thought it is appropriate to share with you some significant contributions of Project Management Academy. I am sure that these contributions also help Project Management Academy to attract more candidates for registrations.
The free PMP questions give a sample test of 50 questions. You can select the answers to these questions. If you want to see the grade of this sample test, you need to register by providing your information. This includes First Name, Last Name, and Email. You also need to agree to their privacy policy. This is a good way to engage the participants to their website for a longer duration which eventually leads to the sharing of personal information.
In addition to teaching and growing project managers, Project Management Academy believe in helping other organizations grow and reach their goals. Some of the ways to do this are by funding research, helping disabled veterans, or funding healthcare for children. There are significant organizations to which PMA has donated. These Organizations are the American Heart Association, American Red Cross, Save the Children, Unicef, and WWF.
Giveaways
Project Management Academy offers giveaways subject to events. This helps them to get more people to register to their site. For instance The giveaway of 's Thanksgiveaway for the categories:
Grand Prize Winner – LG 43″ LED 2160p – Smart 4k Ultra HDTV
First Prize Winner – $50 Amazon Gift Card
Job Listings, Press Releases, and Articles
Project Management Academy also provides a short listing of job opportunities by providing you the fields to search the jobs. These fields include What and Where. Once you fill in these fields, you can find the jobs based on the search criteria. Based on your search criteria, you are redirected to external website indeed.com.
Project Management Academy also provides the latest press releases, news items. Furthermore, they also provide the archives of the old releases and news items. You can also get in contact directly with their Public Relations department. The latest press releases help the audience know the latest happenings regarding the Project Management Academy. For instance, the latest press release informs about their latest acquisition "Project Management Academy® Acquires Watermark Learning to Expand Its Portfolio of Courses for Project Managers and Their Organizations".
You can also find project management related Articles and Blogs which gives the awareness and tips related to the topic.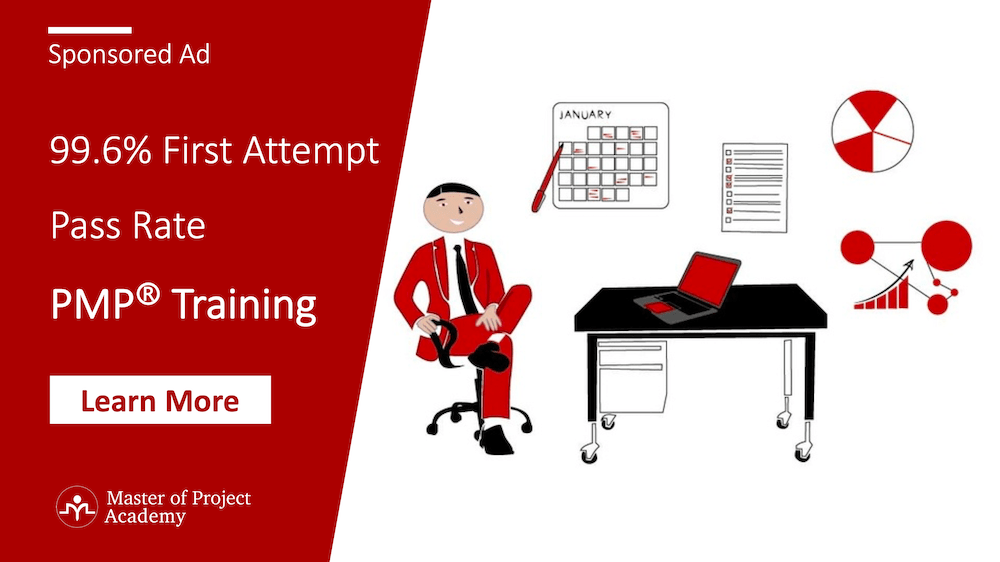 Is There Any Money Back Guarantee?
Project Management Academy PMP program provides a 100% money back guarantee. Their main considerations for the eligibility are:
Candidate must attend their full project management certification course
Candidate must complete three full-length practice exams from Project Management Academy's online training portal
If the candidate cannot pass the PMP exam in three attempts provided all attempts occurred within 120 calendar days of completing the course.
You have to fulfill the above-mentioned criteria in order to avail 100% tuition fee of the entire course offered by Project Management Academy. Though this seems quite a lucrative offer the time bound of 120 Calendar days after completing the course and three attempts to quality the PMP exam within 120 days is quite a tricky milestone to achieve.
Appearing for three times for PMP Examination within 120 days may not be a realistic strategy for candidates. As if once candidates fail in PMP examination, they need to cover their gaps to fully prepare for the PMP examination re-appearance. If a candidate fails the second time, it means that there are serious issues in the preparation or capability of the candidate. So it may take much longer to fully address the gaps and reinforce the preparation to avoid any further failures.
In addition to this, the candidate may not take the risk of re-appearing for the PMP examination and losing the bucks they have to spend to register for the examination. Generally, candidates are asked to practice the tests within a couple of weeks to practice what they have learned and then appear in the PMP Examination.
On the other hand, the time-bound activity may be considered a motivator to expedite the preparation and appear in the PMP exam as soon as possible.
What Are The Reviews of Project Management Academy PMP Training?
Project Management Academy has bagged very good reviews which are good indicators of their consistency and effectiveness. There are many reviews available on their website.
The review statistics are depicted in the below snapshot extracted from Project Management Academy PMP page.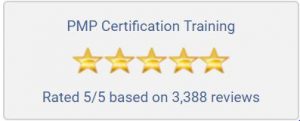 Isn't it too good to be true? I felt the same. Because, you can always tweak the negative reviews and then put the best reviews in the eyes of your customer.
The blow snapshots reflect the rating based on the study guide and course materials.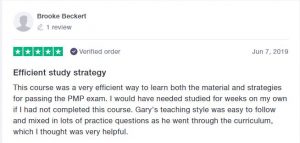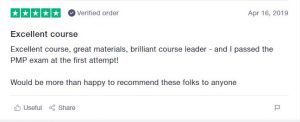 Below there is another review from Project Management Academy website.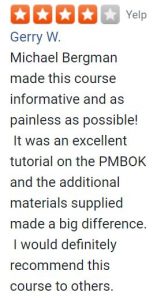 Overall rating of Project Management Academy PMP Exam Certification Course is 5 stars.

Pros & Cons of Project Management Academy PMP Program
Everything has its pros and cons. So below, there are my findings for Project Management Academy, read it till the end.
Pros:
Guarantee of Courses to Run
The courses listed in the schedule are marked with the status "guaranteed to run" which saves the candidates from hassle and frustration of course cancellation and reschedules.
Extensive Project Management Course Material
The course outline of PMP Certification course is in line with the PMBoK. The Knowledge Areas addressed in PMBok are the driving factor of the course outline. They provide the following material to the course participants:
Post-class tutoring and application assistance tool
A Guide to the Project Management Body of Knowledge (PMBOK

®

 Guide) 6th Edition
Print copy of all course materials (binder)
A PMP Strategy Guide (booklet)
PMP exercises and games
PMP training aids (laminates and booklet)
Over 2,000 PMP exam prep sample questions
Realistic 200 questions mock PMP exam
Access to additional web-based video lectures
Content includes sample exams to check your knowledge.
The content of the course includes more than 2,000 PMP exam prep sample questions that help the candidates to assess their readiness and identify the gaps.
In addition to this, they give a full mock PMP exam to the candidates. This exam comprises of 200 realistic questions. So the candidates can practice full rehearsal for the PMP Examination. This helps you to assess how you would answer the questions you can see in real exams. So it helps trainers to assess your level of thinking, and predict their performance in the real exam situation.
All PMP exam topics exist in the content
Since the course is fully aligned with PMBok, therefore it addresses the completeness of the course in regards to the PMP exam topics.

Cons:
The courses are quite expensive
The original cost of instructor-led training is $2,895 USD. However, these rates are subject to discounts. You can view the specific rates of the courses in the course listing. Rates are mentioned for each of the course item listed in the schedule. These rates vary depending on the course format and location. The range falls between 1,595 USD to 1,985 USD. Still, these rates are quite expensive as you may find way better rates from competitors.
E-Learning courses are not available exclusively
You can either opt for instructor-led live or virtual classroom training formats. In both these training formats, the course is led by an instructor which is a value-adding factor. However, this poses the constraint of time on the candidates. You need to follow the schedule and make yourself available to attend the class regardless of which format you opt. So this leaves no room of flexibility in terms of time wise availability even though the virtual classroom format provides the location and travel-wise flexibility.
Class Room training is available in limited locations
The instructor-led classroom training courses are mainly available in several states of America and Canada. Hence the candidates who are looking for the classroom training with the flexibility of time and pace of the course may look for the appropriate course formats from other competitors.
They have a money back guarantee but to fulfill the criteria you have to appear three times for PMP Examination within 120 days. As normally a PMP candidate would take time to prepare longer for their second attempt, this time-bound activity is tricky to achieve.
Cost – Performance refers to a product's ability to deliver performance, for its price. Certainly, the products offered by Project Management Academy are higher in price, so the performance ratio with the higher price makes it average. Obviously, the products with a lower price/performance are more pleasing but only if you exclude other factors.
In my opinion, the provider with the best cost-performance ratio is Master of Project Academy. Master of Project Academy PMP Training is reasonably priced, additionally, they have several enrollment options which start from $67/month. Finally, Master of Project Academy PMP Training has a 99.6% first-attempt pass rate and they had more than 100,000 past students.
Project Management Academy Alternatives for PMP Training
After considering all pros and cons of Project Management Academy PMP training programs, you might think that it is not a good fit for you. We have explored the other PMP training programs which can be a Project Management Academy PMP alternative for you.
#1 Project Management Academy PMP Alternative
Founded in 2012, Master of Project Academy helped more than 100,000 professionals in more than 180 countries. The biggest advantage of Master of Project Academy is providing as many flexible plans as possible for the PMP certification candidates. Self-paced PMP training, in-person PMP Training, instructor-led PMP live sessions. Starting from $67/month, you can find comprehensive PMP training materials to get ready for the PMP exam. All you have to do is opting for the best option you would like to enroll.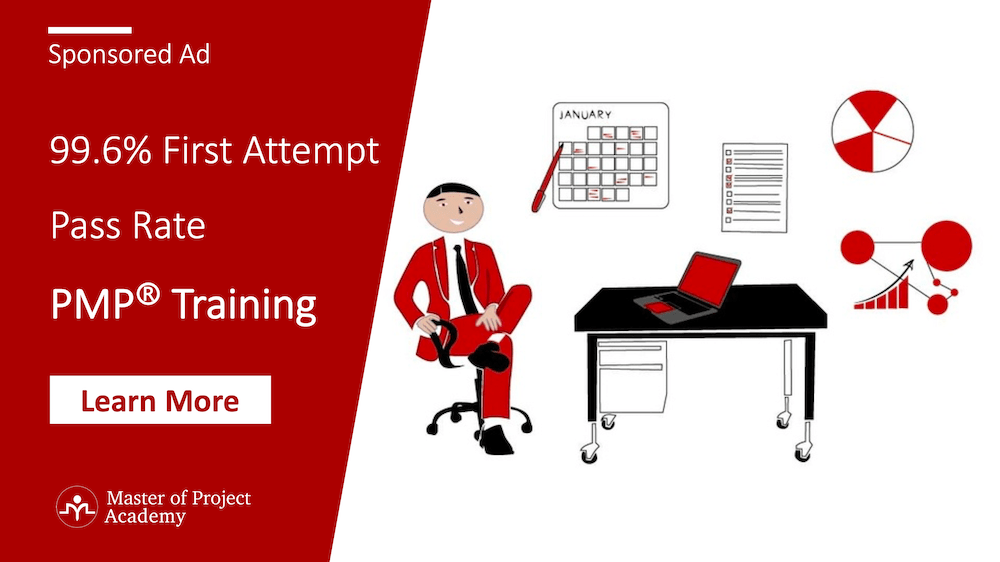 You can see our complete review and details about Master of Project Academy PMP programs.
#2 Project Management Academy PMP Alternative
Another Project Management Academy PMP alternative can be Project Management Prepcast PMP programs. Cornelius Fichtner, who is an experienced project management expert, is the founder of Project Management Prepcast platform. They have self-paced PMP options however they do not offer in-person or instructor-led PMP classes which is a big negative for this alternative.
#3 Project Management Academy PMP Alternative
Simplilearn PMP programs can be considered as a Project Management Academy PMP alternative as well. Simplilearn offers self-paced and instructor-led PMP training programs. However, they have a very unfair pricing strategy. If you are visiting their page from india, you can enroll in a training costs as low as $100 (they show pricing in INR, which is local currency for India) while visitors from Europe or United States can see more than $600 for the same self-paced content material. You can read all pros and cons of Simplilearn PMP Programs.
#4 Project Management Academy PMP Alternative
You might have heard of Udemy, which is a learning platform where several instructors place their content and students can purchase and enroll in their curriculum. You can consider Udemy PMP programs as a Project Management Academy PMP training alternative. However, keep in mind that the instructors you see on Udemy may not be there after your purchase next day. Moreover, their content may not be 35 contact hours.  This is a very big problem and con for Udemy PMP programs. Even though many programs advertise that they suffice 35 contact hours requirement of PMP exam, their content is far below of 35 contact hours if you a little bit look on the training page. You can see our comprehensive review about Udemy PMP programs.
End of Review
In summary, PMP certification is a crucial business requirement for senior-level project leader roles in all globally. Thus, this course is the best for Project Leaders, Assistant Project Managers, Team leaders, Project Engineers, Software Developers or any professional wishing to become a project manager.
PMP credential gives you the knowledge of project management hence, it is an approval of your global professional experience. In short, the advantages of PMP include high market value, increased reliability, and in many cases higher wages.
Project Management Academy PMP course indeed provides a good course structure with good success rates. However, the cost is pretty high. The course formats are Instructor-led classroom and virtual classroom. If you want to check the latest PMP course offerings, you can check on the website of Project Management Academy.
Project Management Academy is just one option so I strongly suggest you look at other options!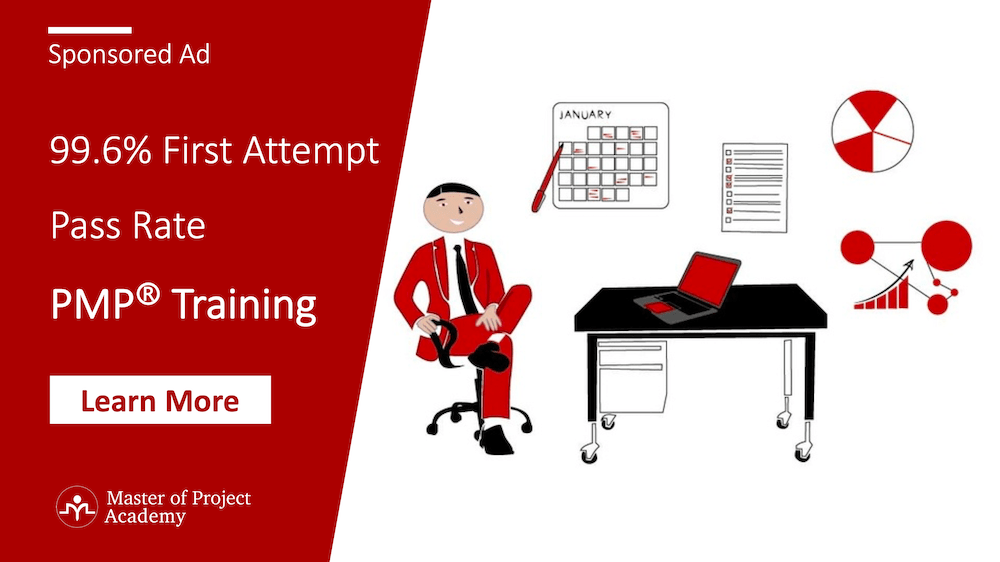 Best,
Naveed
Project Management Academy PMP